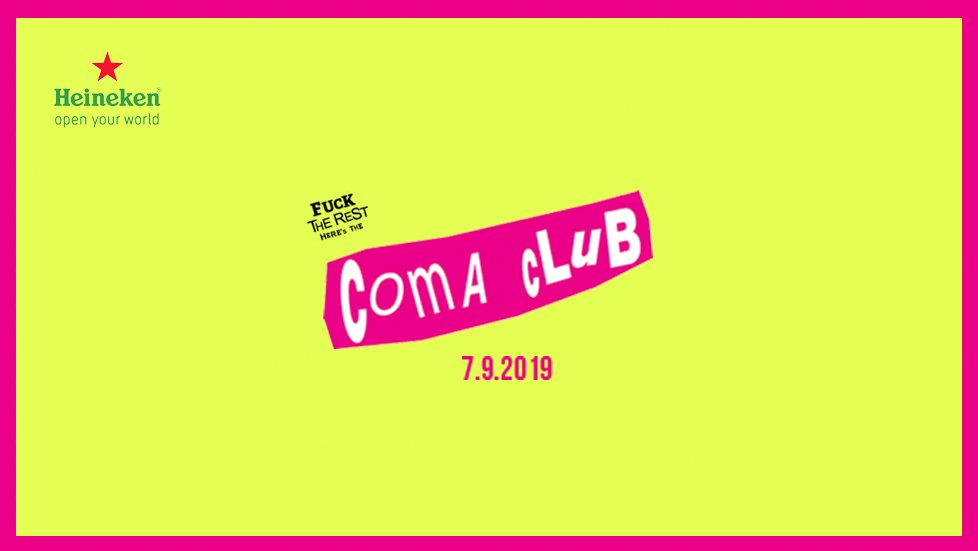 Tickets Available here Friday 1st March
Coma Club 2018
In 2018 we celebrated our 30 year anniversary Coma Club 1988 – 2008
Thanks to everyone involved in the making before, during and after any Coma party.
A special thanks to you, the guest, for creating these extra ordinary parties.
Copenhagen Offers More Action
Video by: Soule
Welcome to Coma Club 2018
Come join us, and let's have the party of the century!
We look forward to meeting you and welcoming you to our party.
Coma Club 2018 – 30 year anniversary !! from Cool Entertainment on Vimeo.
Together and within the Coma Club spirit we shall educate each other aiming at the perfect party by the means of love, creativity, care and happiness.
Copenhagen Offers More Action
Secret Location, Copenhagen – will be released on 08.09.18 on web and SoMe
Dress Code – Please read below
We will dance until Sunday morning
Entrance opens at 21.00 and closes at 24.00. If you arrive later it's not possible to get inside.
Expect an insane, well carried and wonderful Coma Club celebration. We will not scare anyone with strange contrivance, but we would like to challenge you !!! The party is wild and our guests appreciate it. Please think when you party – and do it with respect for each other !!!
Musical line up 2018
Satori LIVE
Jan Schulte
Justin Strauss
Copenema LIVE
Frederik Tollund
Mads Dalholt
Aviaja
Baime
Dj Waltha
Vidundergrunden
Bow Miller & Emil Vissing
Kenneth Bager
(NB! Timetable will be released on website and facebook event page)

DRESS CODE
You are not simply attending a COMA party; you are a part of a COMA party!
Be creative and surprise – stand out among the most imaginative beings in Denmark. Be extreme and test your boundaries.
COMA CLUB is not a regular costume party. So drop that superman-costume, shower yourself in a bucket of colorful paint, and roll yourself in glimmer and feathers.
Please take our dress code seriously. If you do not, COMA CLUB reserves the right to reject you at the entrance and we will refund your payment – and then you are out and not in!
SoMe
Facebook Event
Facebook Page
Instagram
---
Tickets are not refundable
Coma Club reserves all rights to any picture- and video material produced at the party
Entry requirements: Min. 18 years

---